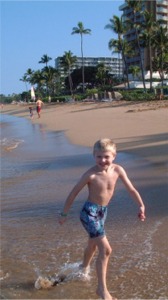 Alex frolicking on the beach in Maui

The year started with the Ohlson family keeping busy with many activities, trips and projects. A February trip to Hawaii started off our adventures in 2004. We spent 8 days in Maui, swimming, driving the road to Hana, and visiting jungle trails, streams and waterfalls. We took a submarine ride to the coral reef, and took in at least one timeshare presentation.
One of the oddest things we encountered were piles of rocks, stacked in gravity-defying piles, (see photo on right) one on top of another. We saw similar rock stacks in Port Townsend later in the year.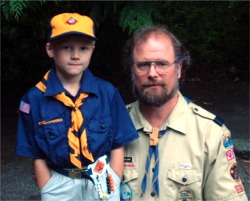 This fall Megan is in 12th grade, Alex is in 2nd grade and Heather is in third grade. Alex and John are active in Cub Scouts, John being the Wolf Den Leader, and Alex earned his Tiger Cub and Bobcat badges this year.

Lise' and Heather are heading up the Fox Island Brownie Girl Scout Troop. Lise' is the Troop leader, and Heather has earned many "Try-it" patches this year. She will graduate to Juniors next year.

Megan, Heather and Alex with a Darth Vader made of Legos at LegoLand

The family went on several camping trips, including a visit to the Naches River near Chinook Pass, Belfair State Park in August with the Cub Scouts, and Fort Worden State Park in Port Townsend.

We explored Boulder Cave and the kids played in the river near Chinook Pass over Memorial Day. June found us in Anaheim for the AFSCME International Convention for John's Union. Being an election year, the convention featured a visit from John Kerry, Jesse Jackson and President Clinton.

After the convention wrapped up, we did 5 theme parks in 5 days, including three days at Disneyland, and one day each at Knott's Berry Farm, and LegoLand.

Labor Day weekend was spent at Fort Flagler and Fort Worden State Parks, where we rolled into the most popular campground in Washington state on Sunday night of a three-day weekend, and found there was one last campsite available! We toured the old gun emplacements and tunnels of Fort Worden, and enjoyed the views ships passing by in the Strait of Juan de Fuca.


A rainy day at Boulder Cave,
Chinook Pass
John's job duties changed significantly as Tacoma's Business Systems Improvement Project wound down a year ago, and the City formed a new department to maintain the new SAP software system. In January, he joined the Business Information Systems Department, and is now maintaining the technical aspects of various modules of the system.

He spends his days working on SAP, and his nights working on websites, for his newly formed corporation: Dragonwyck Web Design LLC. The business is growing rapidly, with over 30 clients ranging from Belly Dancers to Nurse Practitioners, Realtors, community organizations, eCommerce businesses and Biometric Security consultants.

He also spearheaded a fund raising drive among Fox Island residents, raising over $37,000.00 to help purchase a five acre wetland wildlife preserve on Fox Island.

Lise''s Browine Troop on a recent field trip

Through her work with documenting our family tree, Lise' discovered a long lost relative of the Hansen family from Norway. Through emails and the Kirk-Ohlson family tree website, Helen Petterson discovered we were distant cousins, and flew to Washington for a visit with family members.

This school year, Lise' has been volunteering several days a week in the Voyager classrooms. She is the official "Thursday Folder Goddess" for 45 student, which carry the kid's schoolwork home with them.

Lise' also manages the Fox Island Community Center, and organized the community Easter Egg Hunt, and Christmas Tree Lighting event.

The rest of her spare time has been spent selling things on eBay. From clothing to knick-knacks to movies, books and magazines, nearly anything will sell if you put it on eBay!

The 'cat contingent' is now down to only 5 cats. Kit Kat, Tripod, Salem, and Junior Mint join Sophie the calico in warding off mice, raccoons and other various menaces that come our way.

Megan turned 18 this September, and moved out on her own. She has a nice apartment in Tacoma, and is working at the local KFC outlet. She is attending manager training classes, and hopes to be promoted to day manager soon.

Balancing the responsibility of her apartment, a car, her job and other activities is proving to be a challenge, but so far, she is keeping ahead, and still finds time to be with her friends.

The entire family participated in campaigning in the 2004 election, waving signs and wearing buttons for various candidates in the local, state and Presidential elections.


Megan
All in all, the busy year went well, and we send you a happy, safe and healthy new year!
Happy 2005, from the Ohlsons!

Visit us at our website: www.LiseScarlett.com
Website created by